Amsterdam.

I really liked Amsterdam. It appeared nice and clean with plenty of trees. It was really easy to sightsee as well. The first time I was there I jumped on the tram that does the tourist route. Stops were made nearby the important museums as well as Anne Frank's house. I really would have liked to have gone in and had a look, but the queue was too long. I didn't have enough time to stand in queue - besides that I really hate queues.

I loved all the canals. They were nice and wide with plenty of trees lining the banks - as well as outdoor cafes. When I was there everything was green but I can imagine that it could look quite depressing in winter with all the leaves gone.

The second time I was in Amsterdam I took a canal sightseeing cruise to have a better look. The house boats moored in the canals fascinated me in how similar, but how unique each one was. Some looked as though they would fall apart, whereas others looked really safe and sturdy - but they were all basically the same shape - square.



The canals are quite lively.
So lively there is almost a crash.


Anne Frank's house - and the queue.

There were spires and clocktowers everywhere. This is one example.
Beautiful architecture. I don't know how practical or functional they are though.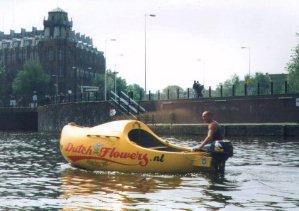 I couldn't help it. I just
had to take this photo.