Holiday to Sharm El Sheikh.

One of the stops we made in the Red Sea while on the ship was to Sharm El Sheik. The first time I was in Sharm I must admit that I wasn't really that impressed. It was extremely touristy - full of sovenir shops, bars and cafes. By the time I went back again it was exactly what I needed.

I went to Sharm for a 3-4 day holiday (all the time I could get off work). It was like being back in civilisation again. I wore what I wanted - shorts and bikinis. No need to cover up. I loved it so much that I went back again with one of my flatmates.

There was alot to see and do, but it was just as easy to sunbathe beside the pool or at the beach. The choices seemed endless - snorkelling, scuba diving, camel safari, swimming with dolphins and going to Mt Catherine were just some of the things on offer

Sharm is a huge tourist trap. It only exists for the tourists - but it was exactly what I wanted for a short break away from Cairo. A great chance to relax and unwind from the hussle and bustle of Cairo.
| | |
| --- | --- |
| View of the hotel I stayed at from my balcony. | Sunset at Sharm. Taken on the way back from a snorkelling day trip. |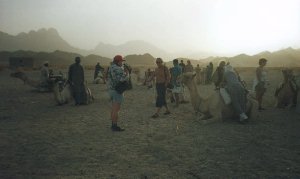 This photo was actually taken in Hurghada on another holiday. People getting ready to go on a camel ride - yes I did have a go.
Living and Working in Cairo
Crew Tour to Cairo
Tour to Luxor
Back to Egypt Main Page