Florence and Pisa

As I said earlier I didn't expect to really like Italy. It was the excursion to Florence that changed my mind. It was the start of spring and all the trees and flowers were in bloom. Everything looked so fresh and clean. The temperature was just right. The tour guide did tell us that in summer the heat is unbearable as Florence is nestled at the base of several hills.

A few of the tour books I had read made Florence sound quite unappealing. I really liked it. Not really for all the statues and that, but more for the narrow little back streets that were interesting to explore.

I went to Pisa with a friend from another ship. It took about 60 minutes to get there by bus from where we were docked in Livorno. Extremely touristy that's for sure. Most of the cathedral and surrounding buildings were covered with scaffolding because they were trying to get everything restored for the millinium. We went, took some photos, had some lunch and then returned to the ship. It was a good day out.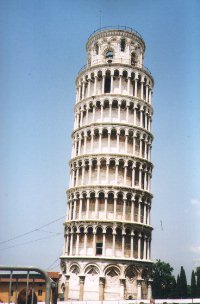 No explanation required - the Leaning Tower of Pisa.
| | |
| --- | --- |
| Cathedral at Pisa. | Statue at Pisa. |
Photos from Florence.

| | |
| --- | --- |
| Duomo | Statues in the main square. |
| View of the river and bridges. | This is a wooden bridge with shops - just how it used to be in the middle ages. |
| This is one of the narrow streets leading to the Duomo. | Huge cathedral tower. |
| Tuscan landscape. I think it's beautiful. | View of Florence. |
Italy Main page