Scandinavian.

I would really love to go back and explore Scandinavian in more depth. Only thing is it is so expensive. Of course if you live and work there it is not so bad, but otherwise it's almost unaffordable.

Norway.

Norway and the Fjiords are beautiful. The fjiords reminded me alot of New Zealand. We made 2 stops in the fjiords at tiny little villages. Actually using the term village is a compliment as these places only had 1 or 2 buildings. Both are only there for the tourists from the train and ships. Very picturesque though.

Stavanger is another town that we stopped at. Really nice fishing town. Once again it has the old town, but there were very few shops just for tourists. It was great to be in a real town again.

Another port of call in Norway was at Bergen. Really nice. This was about the only place where I really played tourist. I took the train/cable car to the top of one of the surrounding hills. Awesome views of Bergan and surroundings. Next time we were there I went on the Noddy train - one of those little tourist trains that take you around and show you the sights. The photo of below shows an alleyway in the old wooden part of town. This area was once where the traders sold their wares. It still is today, this is where all the tourist shops are. It's not exactly the original because of all the fires. As the structures are wooden there has been several severe fires over the centuries but the area keeps getting rebuilt.
| | |
| --- | --- |
| The Fjiords. | Wooden alleyway in Bergen. |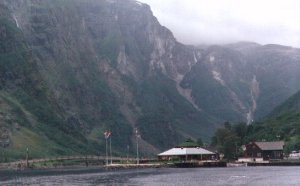 Thriving fjiord metropolis.

Helsinki.
Capital of Finland and beautiful. A really relaxed city. Easy to walk around and the trams are good as well. One place I did go to was the rock church. Awesome structure. From the outside it just looks like a mound of rock, dirt and grass. But the church has been carved out of the inside of the rock.
There was also a great market by the harbour. Lots of tourist stuff but also heaps of fresh fruit, vegetables and fish. The strawberries and cherries were absolutely delicious.
| | |
| --- | --- |
| Inside of the rock church. | Beautiful building - town hall I think. |
Tallin.
I've included Tallin (Estonia) here because I don't really know where else to put it. Great shopping - especially if you go to the black market. Anything you want - tracksuits, trainers, alcohol, tapes, and even food. Just don't expect quality at the market. Language was a small problem as very few spoke or understood much English.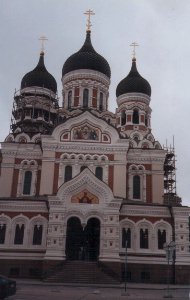 Beautiful church in Tallin.
Sweden