Sweden.

We had 3 ports of call in Sweden with one of them being Kalmar. I must admit that I preferred to sleep as we always had a sea day the day before which meant more work than normal as the casino opened at 9am.

| | |
| --- | --- |
| I just loved the fountain and the greenery. | Entrance to the medieval fort of Kalmar. |
Visby.
Visby on the island was the first Swedish port of call. We were there on Sundays and it was great. No-one was around and for once I could just walk around and soak up the atmosphere. I walked through the town and up to the main gates at the top of the hill. The medieval gates and walls are still in really good condition. Really easy to imagine what it was like centuries ago.
The symbol of Visby is the ram. Now people say that New Zealanders have a thing about sheep. Compared to the town of Visby we don't. At least we don't have sheep everywhere. In Visby the ram is on the flags and concrete rams are used as traffic barriers.
| | |
| --- | --- |
| Countryside outside the gates of Visby. | Medieval town walls. |
| The town gates. | Concrete ram traffic barrier. |
Stockholm.
Lots of really interesting buildings, statues and fountains. The old town (Gamla Stan) was really nice - all the tall narrow buildings in yellows, bolds and oranges - but once again full of tourists. I did find an ordinary part of town by mistake. I got slightly lost.
I was in the bank waiting to exchange some money when this woman started speaking to me in Swedish. I told her that I couldn't understand a word she just said. She said she thought that I was a local - a great compliment I think. At least it meant that I didn't look like the rest of the tourists.
| | |
| --- | --- |
| A beautiful fountain I found when I was lost. | Statue of St George slaying the dragon. |
| Narrow lane in Gamla Stan - I love the colours. | Lovely drinking fountain in the main square of Gamla Stan. |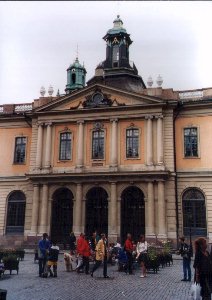 The stock exchange - once a place where traders exchanged livestock, but not anymore.
It takes 3 hours to get out of Stockholm harbour, but the scenery is really beautiful. Lots and lots of islands - some inhabited and others not. We always left just before sunset so going through was awesome with the sun setting behind the islands behind us. Even I was able to take some good sunset photos - most unusual for me.
Scandinavian Main page