Crew Tour to Cairo.

While on the cruise ship I was lucky enough to go on a tour to Cairo organised for the crew. It was a really tiring day, but well worth it. We had to be on the bus by 6.45am. That's really early for someone who has trouble getting up at 10.30am.

It was about a 1 1/2 hour journey from Suez (where we were docked) to Cairo. I didn't realise it until we were in Cairo but we actually had a police escort all the way. It was great at traffic lights and roundabouts as we went through them really quickly. At the time I didn't realise just how much quicker the escort made our journey for us.

Our first stop was at the Egyptian Museum where we saw lots of statues, jewellery, artifacts and even a few mummies. We were only there for about 90 minutes which I found was not enough time to take everything in. King Tut's jewellery (especially the gold death mask) was amazing.
Next stop was the Pryamids and the Sphinx. Even though you think you know what to expect, the reality is mind blowing. You imagine huge and it's gigantic. The only problem is the amount of people there. It's full of other tourists and hawkers trying to sell you postcards, knick-knacks, and rides on the camels or horses. With all the other people I found it really hard just to soak up the atmosphere.
The Sphinx was amazing. So huge and still in great detail. It was just so awe inspiring. Enormous but so stately.
Our last stop was to a papyrus making demonstration. All they really wanted was for us to buy something. By this time I was exhausted and just wanted to go back to the ship and sleep. We didn't have the police escort on the way back to the ship (crew bus left way earlier than the passengers - they got the escort not us) and the journey seemed to take forever - about 3 hours.
Leaving Cairo left us with a lasting impression of poverty (those of us who were still awake). There were half finished houses, rubbish everywhere and even people living in the graveyards. I had never seen or experienced poverty like this before. It was definitely an eye opener.
| | |
| --- | --- |
| Pyramid with the Sphinx in the foreground. | This photo shows the immense size of the Sphinx. |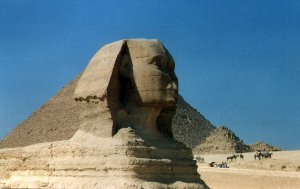 The stately Sphinx with the Pyramid in the background.
Tour to Luxor
Living and Working in Cairo
Holiday in Sharm El Sheik
Egypt Main Page